High-Quality HVAC Services Including Repairs and Installationsin Longwood, Winter Park, Orlando, and All Surrounding Areas
---
With a full team of NATE-certified Comfort Advisors on-site, Blue Star Air Conditioning is your first choice for air conditioning repairs in Longwood, FL. Our HVAC services let you enjoy a consistently comfortable indoor environment, whether you live in Orlando, Winter Park, or Longwood, FL.
A Complete Suite of HVAC Services
AC installations in Winter Park, FL, and heating system replacements
Heating and cooling equipment repair services
Cost-effective preventive HVAC maintenance
Ductless heating and cooling services
Light commercial HVAC services
Indoor air quality solutions
"Don't lose your cool when it's hot, call Blue Star!" — that's what we want to hear when you need help with your heating and cooling system. From new heater installations to air conditioning repairs, we offer all the services you need to keep your home or business comfortable. Our highly skilled Comfort Advisors provide HVAC Orlando, FL, services you can count on to meet your needs.
Learn More
At Blue Star, we're committed to keeping your home or business comfortable every season of the year.
When you partner with us, you can rest easy knowing you've got a team of HVAC air conditioning repair Longwood, FL, professionals ready to assist you.
Schedule An Appointment
Your Local HVAC Experts
At Blue Star, our Comfort Advisors have the expertise and experience it takes to identify and resolve issues as efficiently as possible.
We're family owned and operated and have been a staple of the community since 2013.
Our team always provides a 100% satisfaction guarantee.
We're a Trane Comfort Specialist.
In 2015, Blue Star was the recipient of the Trane Dealer Excellence Award.
The Trane Pace Setter Award was given to us in 2020.
We're BBB accredited and have more than 323 5-star reviews on Google.
Air Conditioning Services
Is there anything more refreshing on a hot day than an air-conditioned environment? Stay chill throughout the year with air conditioning repair, maintenance, and replacements from the pros at Blue Star. We'll keep you comfortably cool no matter how high the mercury climbs.
---
Heating Services
If you're tired of shivering indoors during the cooler months in Longwood, Orlando, or Winter Park, FL, it's time to make a change. A new heating system ensures you stay warm when outdoor temperatures decrease. Trust our heating repair and maintenance services to keep your equipment at peak performance year after year.
Furnaces
Even in warmer climates, investing in a furnace is never a bad idea. Modern systems feature a whole host of benefits, including upgraded parts and enhanced airflow. Newer systems also tend to be quieter in operation. Reach out to a Comfort Advisor to learn more.
---
Heat Pumps
Is there an HVAC system that can heat and cool spaces? Absolutely! A heat pump will cool your home during the warmer months and reverse operations when 80-degree weather decreases to 60. At the same time, they're incredibly energy-efficient but tend to cost more initially to install and maintain.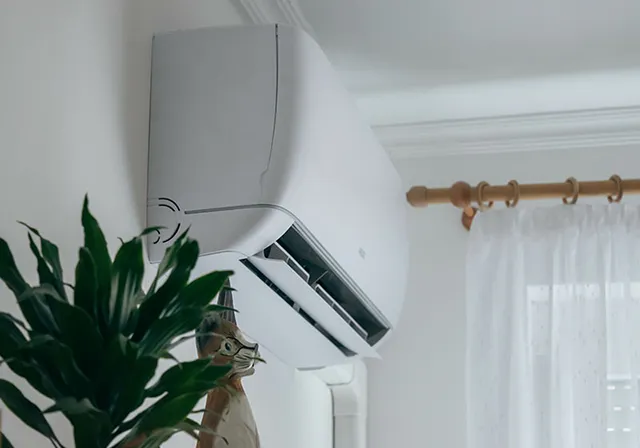 Indoor Air Quality Services
Dust mites, pet dander, chemical vapors — the average home harbors a host of airborne contaminants. We're proud to provide solutions to indoor air pollution. From ventilators and dehumidifiers to air cleaners, our indoor air quality services let you breathe cleaner, healthier air.
---
Ductless System Services
Providing heating and cooling, ductless HVAC takes a more customized approach to indoor comfort. Individual air handlers let you alter temperature settings in each designated space. These highly efficient systems let you stay comfortable all year while paying significantly less in energy expenses.
Controls & Thermostats
The world of home automation is constantly evolving, and our Blue Star teams work hard to keep up with technological advancements. We offer home automation zoning, which involves breaking up your home into separate zones. You'll be able to control comfort levels with designated wireless thermostats, one placed in every room.
---
Light Commercial HVAC Services
Whether you own a small retail shop or manage a supermarket, a well-functioning HVAC system helps maintain the comfortable indoor environment your business needs to thrive. Our installation, maintenance, and repair services ensure the equipment always operates effectively and efficiently.
Contact Us
"*" indicates required fields
Read Our Latest Google Reviews
---